07-20-2023, 04:41 PM (Edited 07-20-2023, 05:56 PM by cdgonzalezgo.)
Hello everyone,
I hope you're all very well.
I'd like to kindly welcome all of you to this new space! Unfortunately, our WordPress blog, the one that accompanied us since 2021, was pulled out for good, and I unfortunately did this because our WordPress blog was becoming a target of security issues to our website, and hence its normal operation. So, from now on, all my development updates, as well as general announcements and release announcements will be posted on this forum. Don't worry because I'll keep posting the announcements on all NextGen's social media channels (Facebook, Discord, and Instagram Stories). I won't close those spaces lol.
By the way, and before I begin, I kindly apologize with all of you for the lack of updates and for remaining silent the last two quarters, but there are a few things that need to be touched here.
Okay, so… Time to tell you what is going on behind the scenes.
Information Regarding the MSFS2024 Announcement
This was discussed on Discord first, the same day Microsoft announced the sim's new sequel, but I'm going to repeat the same announcement here. As you might be aware of, Microsoft announced the upcoming
Microsoft Flight Simulator 2024
sequel, after the success of the 2020 version. To be honest, and like virtually all the flight-sim community, this announcement caught me by surprise. Anyway, I'm making the following announcement about this regard.
For those who don't know,
Microsoft
used to release a new version of
Flight Simulator
every two or three years in the past, since the days of
FSFW95 (Flight Simulator for Windows 95)
, and the same applies for
Lockheed Martin's Prepar3D
 and
Laminar Research's X-Plane
, since the very first iteration of each platform, where we see a new major version of those platforms every two or three years, so this is kind of a normal thing in this industry. Now, Microsoft returned to the same cadence of releasing newer versions of Flight Simulator but every 4 years, instead of every two years like they used to do in the past.
In case you ask about the compatibility and upgradeability for our product(s) right now, according to the statements made by Microsoft, what I can say in this regard is:
I'm cautious compatibility-wise because of the history of breaking changes throughout the MSFS2020 sim updates. Why? One, this reminds me of the broken transponder in the EMB-110 after SU5, and two, because of the statement "

With very few exceptions, virtually all addons that work in MSFS2020 today will function in MSFS2024.

". So, AS LONG, as long as Microsoft keeps and meets the promises of maintaining addons compatibility between both sequels, and not having to re-purchase any content purchased from the MSFS2020 in-game Marketplace after upgrading to MSFS2024, you can then enjoy our current MSFS2020 products on either release at no additional cost, provided that we have reviewed compatibility by the time MSFS2024 is publicly available.
EMB-110 Bandeirante (versions 1.x and 2.0)
Now, I'm going to jump to this section, because there's a side effect on NextGen's current production. After the MSFS2024 announcement, the EMB-110 v2.0 development will begin after MSFS2024 releases to the public. And the reasons for this are:
It's possible that we see significant (hoping not breaking) changes development-wise, i.e., the SDK and all that stuff. I know MSFS2024 is entirely based on the MSFS2020 engine, but we don't know what other changes can happen in the background with the MSFS2024 engine.

The major visual update, which covers a full texture rework in Substance 3D Painter and models' enhancements, is taking longer than expected, and there are other features that can be rolled out meanwhile.

This shift will also help to identify some more missing (but useful) features for the product, such as a classic panel layout with classic radios, interchangeable ECU lever handles' colors, digital PFD/ND glasscockpit instrument (in replacement of the analog ADI/HSI), among many others.

The S340 is very delayed, and I must prioritize its development now. I have received the 3D models and textures from my artists, and I'm currently arranging them for MSFS2020 compatibility, especially PBR parameters.

UPDATE:
 Before jumping to what's new in the upcoming update, I publicly announce that the EMB-110 regular price will be
PERMANENTLY
dropped! Yes. For new customers, and effective since the day the upcoming v1.6.0 update is available, the product's price will decrease from
$34.99
down to
$19.99
, or its equivalent in your local currency. As of today (July 20th), and until July 31st, the EMB-110 is currently on sale for
$9.99
 on the Marketplace. Now, back to the statement.
However, and in the meantime, I'm currently preparing an update for the current EMB-110, which I'm rolling out today for testing to the in-game Marketplace, followed by stores. Following is a summary of what has been addressed in v1.6.0:
The TDS Sim Software GTNXI has been integrated in the cockpit, with a dedicated accurately modeled bezel.

On the PMS50 GTN750 integration, the 

KnobPushLong

event was added to the outer concentric knob behavior, where you can swap the active and standby COM or NAV frequency by long-pressing that knob.

The PMS50 WTT (Working Title Technology) mode is now natively integrated within the product, and the PMS50 GTN750 integration files have been updated to the most recent version. Remember that the three latter items work only on the Windows version of the product.

A RDR2000 weather radar instrument has been added, with accurate visuals, normal (horizontal) and vertical profile modes, and simulated WxA (weather alert) mode and gain functionality.

A second KR87 ADF tuner has been added, with ADF2 support, accurate display visuals and customized functionality, including ADF's ANT (Antenna) mode behavior.

Updates to the visual styles and fonts in KPI553A HSI DME, KAS297 (altitude selector) and KR87 (ADF) displays.

Upgrades to 3D model and textures (using Substance Painter) of GPS, radios, weather radar and autopilot frames and bezels.

There are some adjustments to the exterior model PBR maps, where the paintcoat reflection was fixed. It was very metallic and a bit unrealistic, this has been fixed.

The fuel levers now behave as Condition Levers rather than Mixture levers, and the issue where the ECU (Engine Control Unit) levers (throttle, propeller, fuel) were not correctly interactable with the Xbox controller has been fixed.

Fully remastered Electronic Flight Bag (EFB) experience, including an upgraded 3D model, improved textures, and a fully remade instrument in HTML, entirely replacing the previous 2D XML gauge. This new user interface features a ramp manager page with doors/ramp elements toggles and now pushback controls, two dedicated settings pages with preferences for the aircraft and the EFB itself, GPS hot-swapping, light/dark UI modes, automatic UI theme switching based on simulation's time of day, among other things.

The WASM-based vertical speed (VSI) display has been ported to Xbox, after WASM support availability since SU12. Testing will begin once Microsoft opens the functional sign-off testing window.

The JayDee's improvement mod has been merged into the base product, featuring flight dynamics improvements, a new custom starter logic, improved inertial separators logic, fuel pumps switch logic and copilot avatar visibility inside

Landing touchdown FX on all variants have been added.

There are new LVars defined for compatibility with SPAD.neXt, especially for the autopilot and exterior lights. A SPAD.neXt profile for the EMB-110 has been internally made exclusively for the Honeycomb Alpha & Bravo devices. I tested the aircraft with both devices, and with the adequate setup, the aircraft works just great! This profile will be available for separate download from our website, once the update is released. (PC Only)

Below are some screenshots of the improvements made to the product: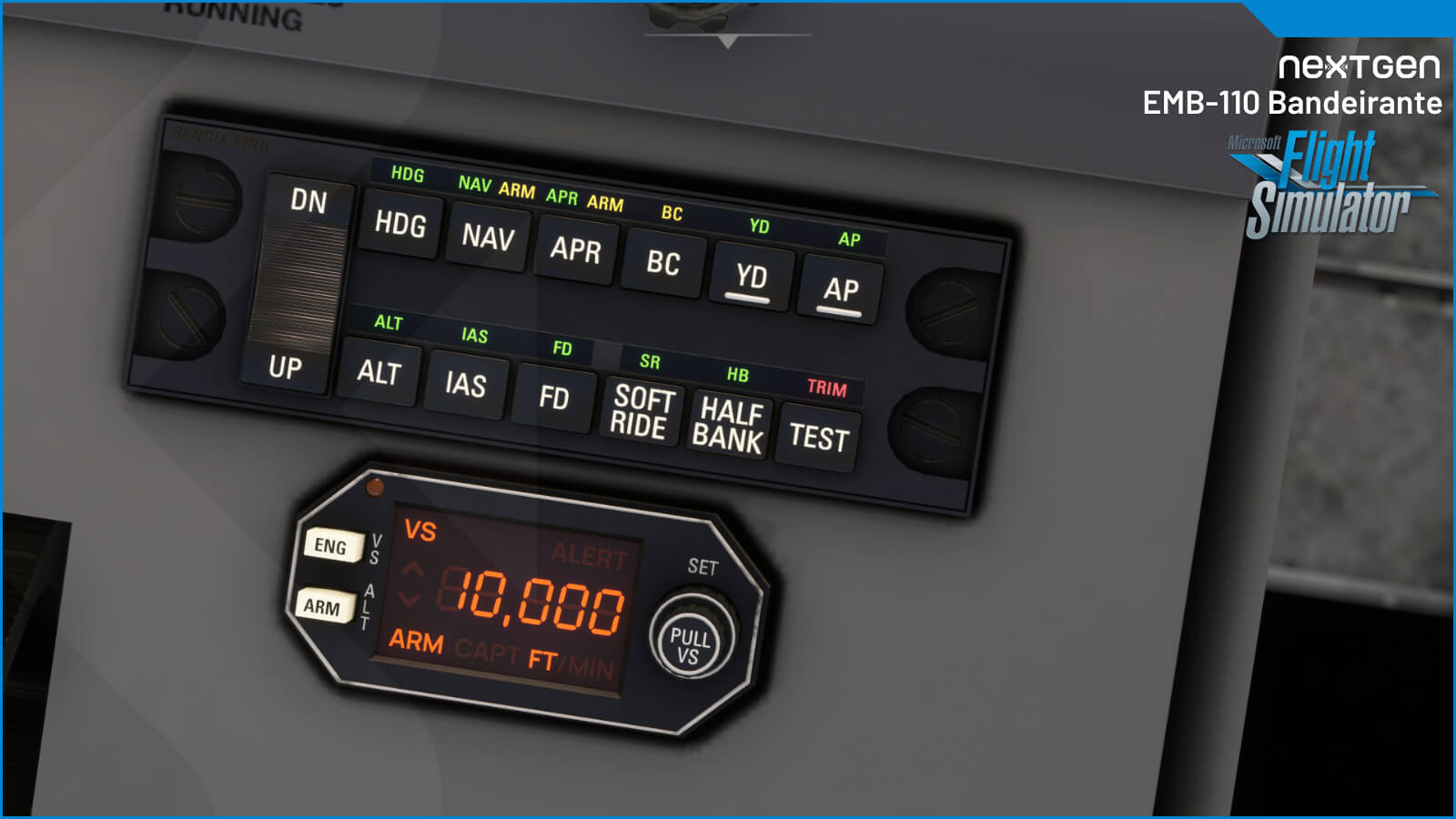 Saab 340
As I said before, I received the 3D models and textures around a month ago, and I'm currently arranging the S340 project in the sim, as well as updating PBR-related textures and parameters in Substance 3D Painter, so that I properly begin to compose the aircraft. And, after the mistake of the XML gauges and the training with the HTML instruments' framework, I'm not going to include 2D XML gauges anymore moving forward.
MSFS Marketplace Policy Updates
A few months ago, Microsoft made public some updates to their Marketplace policies, mostly for partners/developers. In other words, this means that we (the developers) must test our products on both platforms before signing off for release, provided the product meets the use cases Microsoft provide on the Marketplace policy.
Because of this change, I'm going to take measurements to improve the QA stage before releasing to the Marketplace, not just meeting the use cases formulated by Microsoft, but also the use cases I internally formulate for the product(s). I have an Xbox Series X console, which will serve for the Xbox testing, as well as the respective controller, plus a keyboard and mouse connected, so I can perform the required tests on that platform. Plus, since I also use an Xbox controller on my development rig, it helps me to "be in the shoes of" the Xbox user, i.e., fly the aircraft using the Xbox controller like most (if not all) Xbox users would do. Finally, after the ECU levers issue on Xbox, my MSFS settings mandatorily have the Cockpit Interaction Mode set to LOCK instead of LEGACY, so that I can properly test for both environments. Again, I humbly apologize for the inconveniences caused.
Our Future Developments
I have a survey ready for all of you, where I'd like you to answer and help us evaluate which aircraft we have to develop or prioritize development of. You can access the survey
by clicking here
. You have time until August 31st, 2023, 00:00 UTC to answer the survey.
Changes to the Technical Support Channels & Updates to our Terms & Conditions
Because of the new forums launch, and starting from
August 1st
, Technical Support can now be requested only from the forums or from Discord. As always, please take a moment to review the
BEFORE REQUESTING SUPPORT
directives, as well as the FAQs section, before you ask for assistance for the product(s) subject of the request.
Starting from August 1st, support via email and via Facebook/Instagram DM will NOT be answered.
Also, if you bought the product and/or it's the first time you request support for the product, you MUST send via Private Message (PM) the order details or the Marketplace's proof of purchase. No support is given if this information isn't verified. Again, as part of the measurements to fight against software piracy.
Finally, I've updated the terms and conditions regarding order transfers, mostly with Marketplace users in mind. Please stay tuned for more information in this regard.
Final Words
For now, that's all what I have to tell you in this status update. Thank you very much for your comprehension, your feedback, your biggest patience, and your continued support. May God bless you all!
See you in the virtual skies!